Our best seller; The Superlight Carbon Lefty Steerer Tube for Cannondale, 1 1/8, Tapered or Custom frames.
We make the lightest steerer tubes for Cannondale Lefty Forks!
(click on picture´s above for more specific info)
Material INFO:
Butted UD tube specialordered from http://www.carbonfibertubeshop.com
The aluminum rings is machined in a CNC lathe for superior accuracy.
The glue is Loctite Hysol 9466 A+B.
Color options: RAW (aluminum), Green or Black.
Special colors on request, I just done some unique combinations for customers around the world.
Length INFO:
Your tube will be a maximum of 230mm (XL) in total lenght, standard are 210mm (with normal length between clamps a 250mm long tube will generate to big bending forces). 46mm will be left over clamp when mounted.
IMPORTANT INFO!
Lefty Tube Warranty
Read the whole document by downloading this PDF: Lefty Tube Warranty
Order INFO:
Do you live in Europe and want a standard Lefty Tube for 1 1/8 OR Cannondale, RAW or Green?
Then order via R2-Bike webshop (http://r2-bike.com/EP-Lefty-Steerer-Tube_1).
In case of custom orders OR if you live outside of Europe, Please see our contact/order info to the top right or click HERE.
PRICES
Prices may vary depending on world market and currencies.

Lefty tube for Cannondale OR standard 1 1/8 frames:
RAW metal "color" on clamp-rings €145
Green or Black anodized clamp-rings €165
Custom painted color on clamp-rings €210

Lefty tube for Tapered frames:
RAW metal "color" on clamp-rings €165
Green or Black anodized clamp-rings €185
Custom painted color on clamp-rings €230
NEW: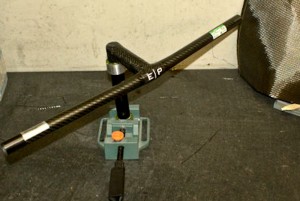 Cannondale Steerer-COMBO (steerer-stem-handlebar). 209 grams for a 600m wide AX poseidon at 89gr with a 72 gr green Lefty tube. Stem rise: -10°, 100mm long. One layer Pennon aramid hybrid weave 6-7 layers carbon 3k on a UD stem tube.
PRICE €500.